By –Shikha Desai
Created: Feb 25, 2021, 12:29 IST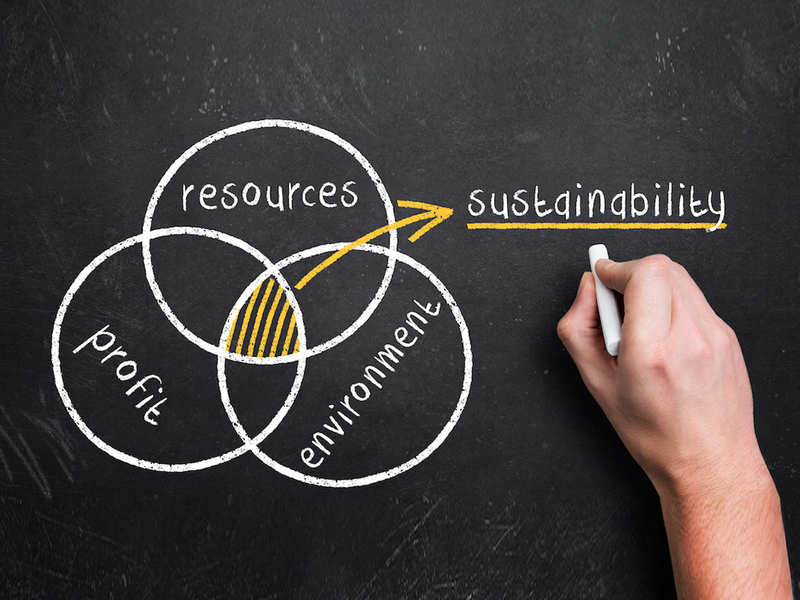 The Indian Manufacturing sector has been a major contributor to the country's GDP and also a major employment generator. From MNC's and large scale companies to even MSME's in manufacturing, have considerable contribution in the growth of the sector. Additionally, with the focus on 'Vocal for Local' and the 'Made in India' initiative, the government aims at increasing the current GDP contribution of the manufacturing from 17% to 25% by 2022, while also aiming at becoming a global hub for manufacturing, in the post COVID era. While the above is promising, rising concerns towards environmental hazards and the role of industries in air, water, soil and noise pollution, is increasing by the day, with the growth of the sector. In spite of strict pollution control guideline and processes, put in place by the government, the continuous rise in pollution is alarming. As per a recent report by The State of India's Environment (SoE), 2019, the number of Grossly Polluting Industries (GPI) has risen by 136%, across the country, from 2011 – 2018, making this a grave matter for concern.
As international best practices and the government focus on adopting greener and sustainable practices, there is an overall push towards a green economy, in turn encouraging entrepreneurs to adopt sustainable business practices. From digital/ paperless documentation, cloud computing, automation and use of emerging tech like AI, ML and AR for smarter and energy efficient operations, manufacturing and other industries, are working hard to inculcate greener solutions while maintaining production and profits. However, the misconception that introducing greener solutions and sustainable practices is a costly affair, is still driving a lot of businesses to shy away from going 100% green. Listed here are 5 key areas, to begin with, where manufacturers can inculcate sustainable practices to drive profitable operations while not only limiting pollution but actually help reduce the existing load.
1. Energy: Switching to solar is one of the most efficient and obvious move for industries, when one thinks of greener practices. While this is true, sustainable practices go much beyond this. To start with, conducting an energy audit to identify wastage and consumption patterns, can help create a better understanding of the energy requirement, on a daily and monthly basis. Optimising this consumption by ensuring zero wastage, and maximising output, could be step one. Bifurcation of heavy energy consumption Vs. routine consumption can be made and the latter can be sourced with smaller set ups of solar power, to further reduce dependency on fossil fuels. Functions like lighting, cooling and heating, for example, can be switched to solar while heavy duty machinery functions can be still carried on with regular electricity source. Not only will this help reduce costs, but also the carbon footprint and the operational efficiency.
2. Resources: Optimising resources is one of the core processes for profitable manufacturing. These include raw materials, machinery, natural resources like water, fuel etc., that need to be sourced at a reasonable cost and quality, to ensure a consistent output. However, apart from just cost and quality, manufacturers can start looking at the 'green' quotient of the purchases, so as to make informed choices. In many cases, these turn out to be more cost effective than the original/ traditional options. Questions like can a natural source of raw material be procured for my product, vs the current one or can one use recycled products or plastic/ wood, as raw material, instead of what is currently been used, can be valuable questions. Further, apart from re-looking at the raw materials sourced, one can also look at optimising use of water/ steam or other natural resources used in the plant, either by recycling them in-house for re-use or optimising the production process that can help cut down massive use of resources, can help create an impactful change.
3. Technology:In the era of Business 4.0, leveraging smart technology for optimising processes is soon becoming the new standard. While a lot of companies, especially MSME's, are still shying away from complete tech adoption, a range of start-ups and tech innovators are helping bridge this gap with customised and cost effective solutions. Leveraging these for adopting greener manufacturing processes, can not only be profitable but also help reduce the harmful effects of pollution generating process on employees. Currently a number of industry workers and labourers are being subjected to harmful and toxic chemicals, as part of their daily jobs at factories. By leveraging AI/ robotics, and Machine Learning, these harmful hazards can be controlled and their exposure can be managed. Further, smart tech can help re-design or improvise manufacturing processes that can use minimum resources while generating quality output, with reduced waste/ pollution. Tech adoption is one of the key innovations to drive sustainable practices, be it automation, fin tech, cloud computing and AI enabled solutions or Data analytics, preventing crisis or breakdown or leveraging smart robotics.
4. Packaging: This is one of the major contributors to waste generated through industrial and manufacturing processes. Use of plastic/ synthetic material for packaging has seen an alarming rise in the pollution caused by non-degradable waste. From plastic bottles, containers, packaging material and bags to smaller pieces of plastic, like lids, caps, single use straws, external packaging and bulk packaging for transport, are all major pollutants, with long lasting and dangerous impact on the environment. Replacing these with natural or recycled materials, like cardboard, paper, hemp or bamboo etc., can drastically help reduce environmental impact and stop adding to the already rising pile of non-degradable waste in our oceans and rivers.
5. Waste treatment and recycling: Last but not the least, taking responsibility of the waste generated by the industrial processes, is as vital as focusing on the final output. Most industries falling under the GPI category or seen flouting pollution norms, do so by releasing toxic waste into the surrounding water bodies, soil, or atmosphere. While it is a mandate to treat any industrial waste to remove/ reduce its toxicity before releasing it in the environment, there are a lot of instances where this is not followed at all, or not followed accurately. Waste treatment and recycling can be one of the prominent aspects of green manufacturing and thus, hold a huge potential to create a sustainable impact on the entire industrial operations and supply chain.
Even as India gears up to becoming an international manufacturing hub, its focus on adopting green practices will remain a decisive factor in the overall success of the economy, ensuring cleaner environment, better public health, conservation of its natural resources, and smarter and efficient business processes. Industrial growth without a focus on the holistic development of the country, would only be stunted and even temporary.

Inputs by Kirit Joshi, Co-Founder and Director, Spacewood Group
